Issue / Question
How to disable application (example Google Hangouts) using StageNow Tool?
How to remove notification 'SMS no longer supported' using StageNow Tool?
Applicable To
All Zebra Android device
For the issue 'SMS no longer supported' this is only for Android GMS devices that still include Google Hangouts. Example TC51 or MC33.
Resolution / Answer
Overview:
Application Manager (AppMgr) administers the user applications on the device. It can be used to programmatically install, uninstall, upgrade and turn on (or off) the ability to launch an application, all with no need for user interaction. AppMgr also can designate an application as the Default Launcher (invoked when pressing the HOME Key), and can perform other tasks related to the management of applications. Read More>>
Resolution:
1. Create a StageNow profile which includes the AppMgr.
2. Set Action equal to 'Disable Application' and 'Package Name'equal to APP package name. To help you determine the package name, refer to Using ADB to Determine Package Name and Launchable Activity
For example, the APP Google Hangouts' package name is 'com.google.android.talk'.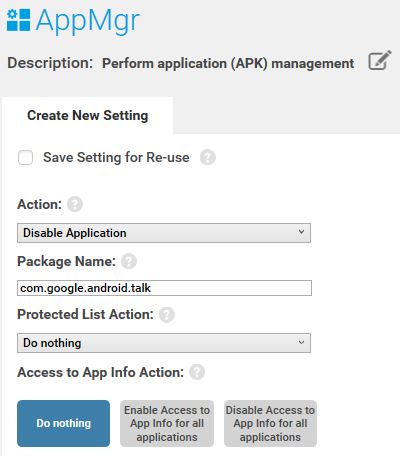 3. Save profile then proceed to Device Staging. Read More>>