Hands-Free Technology for Packing and Staging Enhances Shipping Accuracy and Efficiency
Packing and staging are the most hands-on jobs in your warehouse and distribution centre's shipping department. Any distraction or error can lead to an incorrect shipment and dissatisfied customer. To ensure accuracy at this critical point, Zebra developed hands-free technology that confirms orders with a quick scan, prints a shipping label with the correct destination, and allows you to continue tracking each package to the right truck.
Hands-Free Technology
Using wearable or fixed-mount presentations, workers in the packing and staging area can focus on the task at hand so they can be more productive and accurate.
Flexible Data Capture
Capture data from 1D or 2D barcodes and RFID so you can continue to evolve your warehouse operations and ensure compliance and traceability with the right mix of data capture options.  
Customer Satisfaction
Achieve flawless fulfilment by doing a final check at the end of the line to ensure that each order has been accurately picked, packed, and staged for the right destination.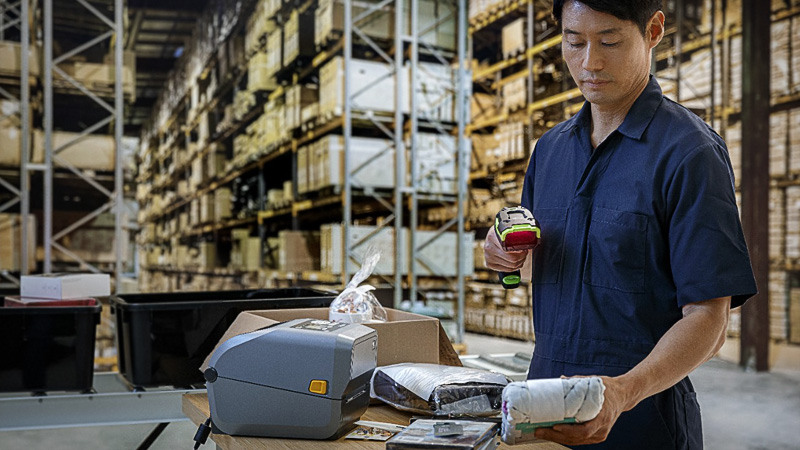 Thought Leadership
Three Trends Shaping Retail Fulfilment
Gain a competitive advantage with ten helpful tips to help jump-start your warehouse modernisation journey.
Build Your End-to-End Solution
Hardware
Our handheld, vehicle mounted, and wearable mobile computers, tablets, RFID products, ultra-rugged scanners, and printers, paired with Zebra and partner software, are purpose-built to provide enterprise-level support for your packing and staging needs.
Software
See how these software offerings add to your Packing and Staging solution.
Service and Maintenance
Zebra OneCare™ Maintenance Plans
Protect your business-critical devices and eliminate disruptions and unplanned repair expenses. You'll get device uptime, confidence, and savings with Zebra OneCare™.