Ensure Long-Lasting Receipt Readability
You need the receipts and documents you print to last and look professional. When you choose Zebra Certified Supplies, you get that and more. Zebra papers have been carefully pre-tested, selected, and certified to deliver the best performance, durability and longevity at a price you can afford. So, your receipts and documents not only fit your budget, but they also remain readable for their entire life.
Withstand the Elements
Heat, light, moisture and abrasion are tough on receipts. They are commonly exposed to rain and chemicals, stored in hot cars, and come into contact with hands and countless surfaces. Be sure your receipts and documents are durable and can withstand the elements with the right materials, thermal resistance, thickness and top-coating with Zebra.
Quality Testing Guarantee
Our material sciences experts have pre-tested, selected and certified the highest-performing receipt papers to meet your application's durability, image quality and archival requirements, as well as your budget. And, Zebra is ISO 9001:2000 certified. We adhere to consistent processes to ensure our finished products deliver high customer satisfaction.
Put Your Mark On It
Want customisation? You've got it. Get greater security and reduce counterfeits with pre-printed watermarks. Order pre-printed documents with return policies and instructions, warranties and other conditions. And, Zebra can even pre-print your company logo, PMS colour and other information to promote your brand with a complete solution, customised just for you.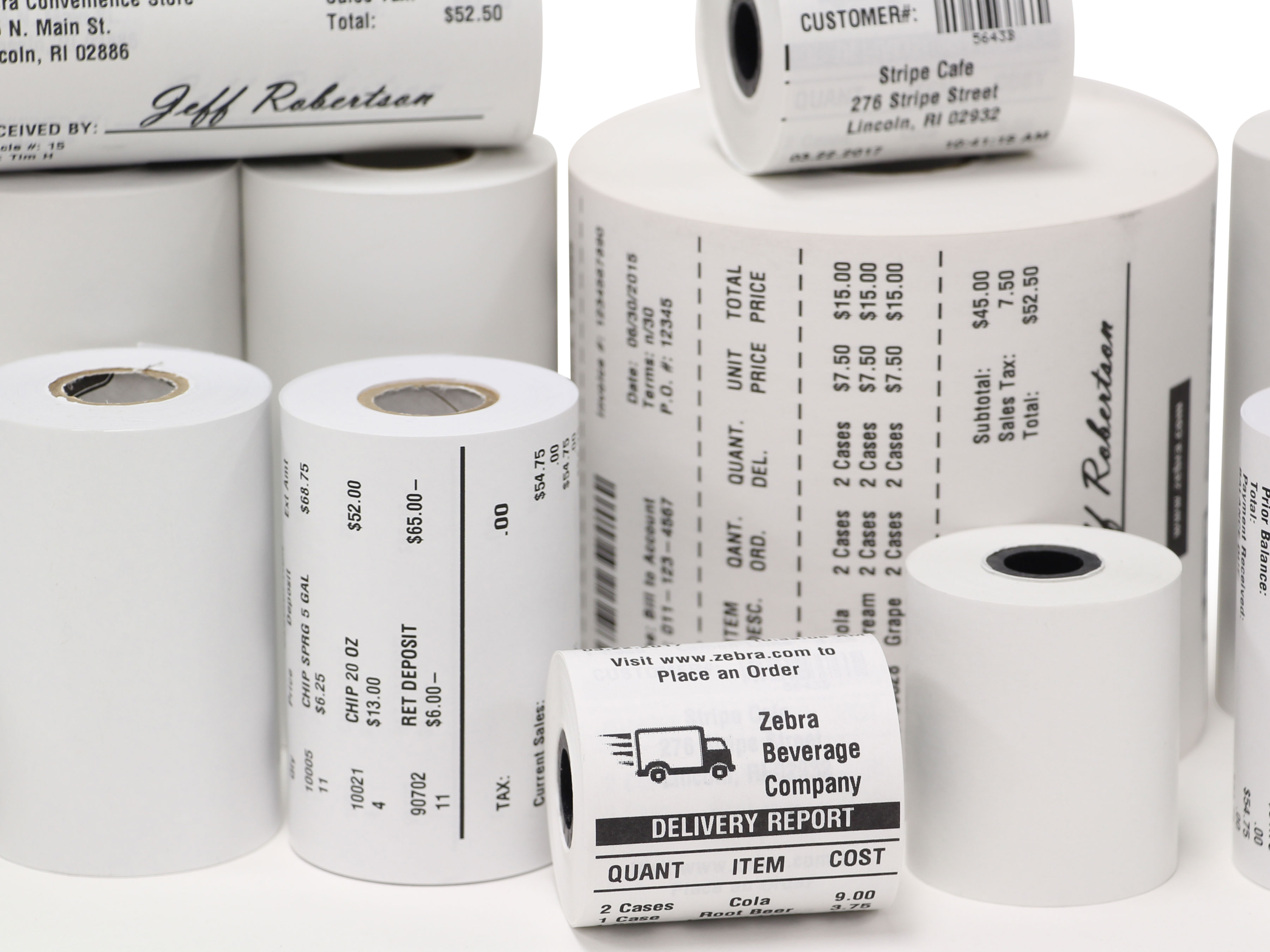 Receipt Paper Solutions
Crisp, Long-Lasting Images and Text
Zebra's receipt paper solutions provide high-quality images and text that ensure your receipts will remain readable and intact for their entire life.
Receipt Features
Product Name
Material Description
Printing Type
Archivability
Why Choose
Resources
Z-Perform 1000D 2.1 mil Receipt
Premium thin receipt paper that offers excellent quality at an economical price
Direct Thermal
10 years

Minimise receipt paper roll changes during a shift

Z-Perform 1000D 2.1 Mil Spec Sheet

Z-Perform 1000D 2.4 Mil

Premium receipt paper that offers excellent quality at a low cost

Direct Thermal

10 Years

Minimise receipt paper roll changes during a shift
Cost is important

Z-Perform 1000D 2.4 Mil Spec Sheet

Z-Perform 1000D 3.5 Mil

Heavy duty thicker paper that offers improved durability and feel

Direct Thermal

10 Years

Offers thicker paper to support brand image
No need to minimise receipt paper roll changes

Z-Perform 1000D 3.5 Mil Spec Sheet

Z-Select 4000D 3.2 Mil

Thicker top-coated paper that offers exceptional long-life durability and resistance

Direct Thermal

25 Years

Offers durability for an extended period of time
Minimal moisture and chemical resistance

Z-Select 4000D 3.2 Mil Spec Sheet
Z-Select 4000T 3.0 Mil
Premium, top-coated receipt paper with ultra smooth feel
Thermal Transfer
25+ Years

Excellent high print speed quality
Long archivability

Z-Select 4000T 3.0 Mil Spec Sheet
IQ Colour 2000D 3.3 Mil
Smooth receipt paper with the ability to print colour on demand in pre-defined zones
Direct Thermal
1 Year

Provides flexibility compared to traditional pre-printed receipts
Fewer roll changes when you are using multiple SKUs
Adds visual cue to assist workers

IQ Colour 2000D 3.3 Mil Spec Sheet
PolyPro 4000D 3.8 Mil
Top-coated, strong synthetic material that is waterproof and tearproof
Direct Thermal
10 Years

Limited chemical resistance
Tearproof and waterproof material

PolyPro 4000D 3.8 Mil Spec Sheet

8000D High-Temp 3.2 Mil

Thick top-coated paper that withstands high temperatures

Direct Thermal

20 Years

For use in environments where heat exceeds  140º F (60º C), such as inside vehicles in summer
Superior durability under fluorescent bulbs
Minimal moisture and chemical resistance

8000D High-Temp 3.2 Mil Spec Sheet