ZT411 RFID On-Metal Tagging Solution
Zebra's ZT411 RFID On-metal Tagging Solution: The Only Dedicated Option for Printing and Encoding Thicker RFID Labels for Metal Assets
Ensuring an effective read range on metal items requires thicker RFID tags, making them incompatible with standard thermal RFID printers. Resolving this challenge, Zebra's ZT411 RFID On-metal Solution enables you to print and encode thicker metal tags, and gives you the flexibility to incorporate simple-to-install, field-upgradeable technology and 300 dpi print quality.
Ensure RFID Read Range and Print Quality
Zebra's ZT411 RFID On-metal Tagging Solution is optimised to print and encode Silverline labels with high-quality Zebra ribbons. This gives you excellent print quality and encoding accuracy.
Ideal for Your Application
The benefits of RFID are well known in industries from manufacturing and retail to transportation and healthcare. Silverline labels are available in four sizes to meet the needs of a wide variety of applications.
The Tools for Asset Tracking
Pair the ZT411 RFID On-metal printer/encoder and Silverline labels with an RFID reader. Together, they enable you to track all critical enterprise assets.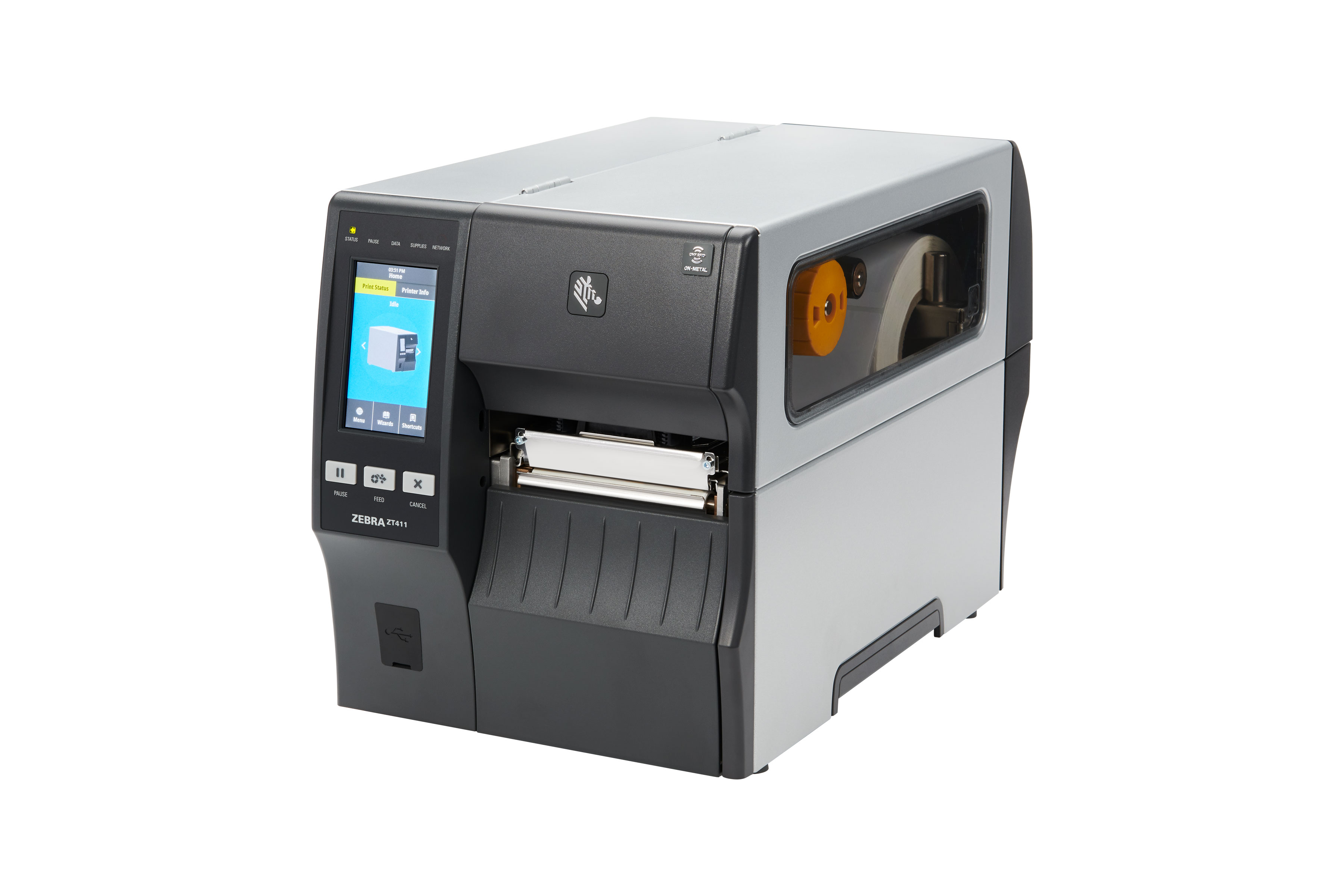 Industrial Printers
ZT411 RFID On-Metal Tagging Solution
Zebra's ZT411 RFID on-metal printer is ideal for on-demand RFID asset tagging for all surfaces, including metal. Globally available, the printer features a 4.3-inch full-colour touch display to see status at a glance and make quick settings changes—including RFID. Optimised to print Silverline labels up to 1.5 mm thick; it can also print on all labels appropriate for the standard ZT411.
Print Width
4.09 in./104 mm
Maximum Print Speed
14 ips / 356 mm per second
Communication Methods
Standard:
USB 2.0, high-speed, RS-232 Serial, 10/100 Ethernet, Bluetooth 4.1, dual USB Host
Optional:
Parallel (Bi-directional interface)
Wireless dual radio with 802.11ac/Bluetooth 4.1, 10/100 Ethernet, Applicator Interface
Print Resolution
203 dpi/8 dots per mm
300 dpi/12 dots per mm (optional)
Media Sensors
Adjustable dual media sensors: transmissive and reflective
For Information on the Standard ZT411 RFID Printer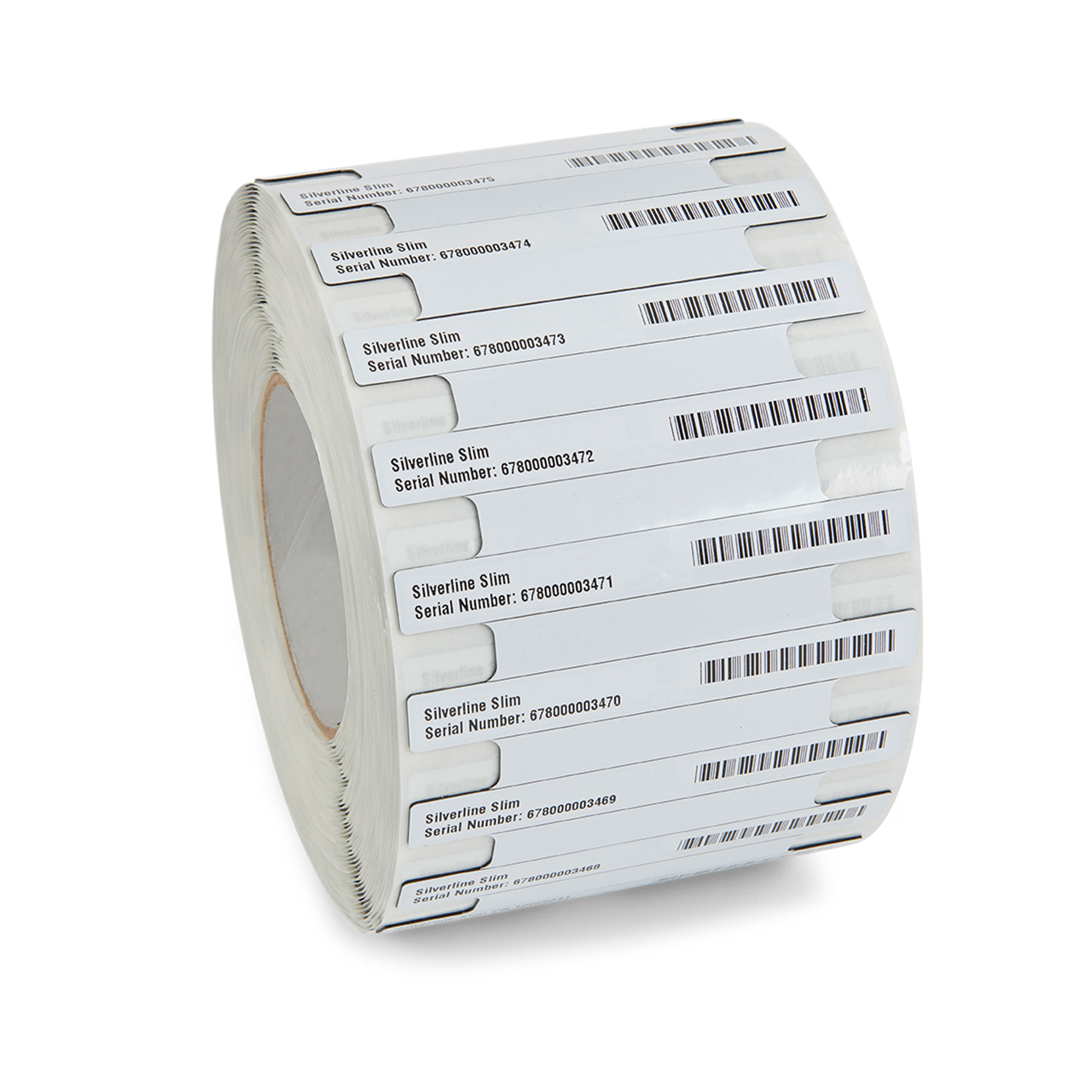 Supplies
RFID Media
Consistent, Reliable Encoding Now with Improved Read Range
Designed for and extensively tested in Zebra's ZT411 RFID On-Metal printer/encoder to ensure reliability, and featuring new materials and the latest crisps, the next generation of Silverline RFID tags are one of the most high-performing on-metal solutions in the market.
RFID Protocol
UHF EPC Gen 2 V2/ISO 18000-6C
Operational Frequency
ETSI: 865 - 869 MHz
FCC: 902 - 928 MHz
Memory Configuration
Classic: Monza 4i™ : EPC 256bit, User 480bit, TID 96bit
Micro II & Slim II: Impinj Monza R6-P: EPC 96/128bit, User 32/64bit, TID 96bit
Blade II: Impinj Monza M730: EPC 128bit, User 0bit
For the Full List of Features
 
Silverline Classic II

Silverline Micro II
Silverline Slim II
Silverline Blade II
Silverline Blade II+
ETSI Read Range
Metal up to 15m / 50ft
Plastic up to 9m / 30ft
Liquid up to 10m / 33ft


Metal up to 3.5m / 12ft
Plastic up to 1.5m / 5ft
Liquid up to 2m / 7ft

Metal up to 7m / 23ft
Plastic up to 4m / 13ft
Liquid up to 4m / 13ft

Metal up to 10m / 33 ft
Plastic up to 5m / 16ft
Liquid up to 4m / 13ft

Metal up to 7m / 23ft
Plastic up to 3m / 10ft
Liquid up to 5m / 16ftt

FCC Read Range
Metal up to 15m / 50ft
Plastic up to 9m /30 ft
Liquid up to 10m / 33ft

Metal up to 3.5m / 12ft
Plastic up to 1.5m / 5ft
Liquid up to 2m / 7ft
Metal up to 7M / 23ft
Plastic up to 8m / 26 ft
Liquid up to 2m / 7ft
Metal up to 10m / 33 ft
Plastic up to 5m / 16ft
Liquid up to 4m / 13ft
Metal up to 7m / 23ft
Plastic up to 3m / 10ft
Liquid up to 5m / 16ftt

Dimensions
100 mm W x 40 mm H x 1.3 mm thick / 3.94 in. W x 1.57 in. H x 0.05 in. thick

45mm W x 13mm H x 1.3mm thick / 1.77in W x 0.51in H x 0.05in thick

100mm W x 13mm H x 1.3mm thick / 3.94in W x 0.51in H x 0.05in thick

60mm W x 25mm H / 2.36in W x 0.98in H
60 mm W x 25 mm H x 1.4 mm thick