Zebra SmartSight™
Uncover Unprecedented Ways to Optimise Your Stores
Discover the smarter way to utilise people and resources. Create the ideal store experience for shoppers using automated intelligence that drives prescriptive solutions. Go beyond just spotting shelf issues to prescribing corrective actions in real time. Free workers from repetitive tasks to engage with customers. Eliminate stock and pricing challenges, and comply with requirements. Drive sharper decisions and improve store performance, fuelled by SmartSight's data-driven intelligence — only from Zebra.
More Than Shelf Awareness — Store Intelligence

Create the ideal store experience for shoppers with SmartSight. Using automated intelligence, you can do more than spot issues about shelved merchandise. Reveal prescriptive ways to resolve them in real time, and increase store performance. Optimise your entire supply chain. Eliminate stock and pricing problems, ensure compliance and more.

Free Employees to Add More Value

Workers are in short supply. They are often burdened by repetitive, mundane tasks. They're frequently interrupted, leaving those tasks unfinished. Liberate them. Zebra's automated intelligence solution allows you to reassign an average of 65 labour hours per store per week*. Associates are free to deliver greater value and engage with customers.

*Results may vary by store.

In Stock, and In Favour

In this omni-channel retail world, satisfying shoppers is challenging. Inventory must be available, properly displayed and priced accurately and competitively to make the sale and create customer loyalty. Repeat business must be earned, again and again. Zebra's automated intelligence solution transforms your operations to deliver a competitive edge.
Enterprise Mobile Automation
Automated Store Analysis
Zebra's Enterprise Mobile Automation (EMA50) system is more than a robot. It's an end-to-end solution that prescribes corrective actions to address store issues. Scanning shelves for price and inventory accuracy and more. EMA50 safely coexists with shoppers and staff to improve the store experience.
Actionable Analytics
Innovative Store Intelligence
Turn information into action. Resolve shelf issues with prescriptive tasks assigned to frontline staff in near real-time. Empower staff to take corrective actions, add more value and delight shoppers. Gain a better view of your inventory, and entire supply chain, to make smarter decisions.
Backed by Zebra
Your Transformation Partner
As the global leader in delivering a performance edge to business, Zebra's your proven retail innovation partner. Our subscription-based SmartSight solution is fully backed by Zebra – from integration to management, monitoring to retirement. Reduce risk. Capitalise on the on-demand economy with Zebra.
Harness Opportunity with Zebra's End-to-end Portfolio
Mobile Computers
Equip your on-the-go workforce with the devices they need using Zebra's full range of mobile computers, including tablets and handheld RFID readers.
Extend Your Power
Barcode Scanners
Zebra's 1D and 2D corded and cordless barcode scanners anticipate any scanning challenge in a variety of environments, whether retail, healthcare, T&L or manufacturing.
Extend Your Power
Printers
With our extensive range of durable barcode printers, you can rely on Zebra to deliver the right solution for your printing application.
Extend Your Power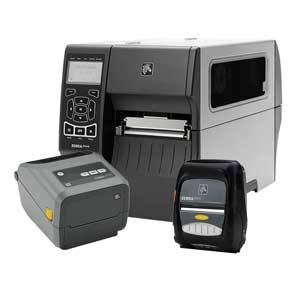 Zebra RFID
Zebra RFID helps you transform your business and get ahead of competitors with the industry's broadest, field-proven RFID portfolio for unmatched accuracy and interoperability.
Extend Your Power