In today's data-centric world, mobility, the cloud and the industrial internet of things (IIoT) are changing the way businesses looks at supply chains, manufacturing lines and employee workflows.
And Zebra's digital technology is delivering actionable insights that can empower a performance edge to those on the front line of business.
You can get a first-hand look at these technologies through our Executive Briefing Program at our Zebra Experience Centers, located in Lincolnshire, Illinois, and Holtsville, New York. These personalized briefings provide a world-class interactive look at how our digital technology is transforming the edge of the enterprise, giving businesses the ability to instantly sense, analyze and act in real time.
Schedule Your Executive Briefing Today
The best way to schedule an Executive Briefing is by reaching out directly to your Zebra sales contact. If you need assistance identifying your sales contact, please complete this form and a representative will contact you.
What You Can Expect
A Fully Personalized Experience
Your time is valuable. That's why our team will work with you directly to pinpoint your meeting objectives ahead of your visit. Then we'll plan the briefing sessions with appropriate subject matter experts and tailor the tour to match your specific strategic needs.
Rich Insights Into Industry Trends
Your industry is evolving, and so are your needs. Our teams regularly conduct and review market research on each of the industries we serve to provide you a deep review of the important trends that are likely to impact your business. Then we can discuss how you can best respond to them to capture and preserve your edge for the years to come.
Access to Subject Matter Experts
Whether you want to have a deep discussion on a particular part of the Zebra portfolio, a broader conversation about the future of the IIoT or address a specific workflow inefficiency in your processes, we'll bring the right experts to the table.
Unfettered Access to the Latest Innovations from Zebra and our Partners
Our Zebra Experience Centers feature our most recent products, solutions and services, along with complementary offers from some of our 10,000 trusted channel partners from across the globe. During your visit, you will be able to touch, see and experience these solutions first-hand and, with an NDA in place, you can also gain exclusive access to not-yet-released solutions and explore some of our labs, testing facilities, and more.
Lincolnshire, IL
3 Overlook Point, Lincolnshire, IL 60069
Holtsville, NY
1 Zebra Plaza, Holtsville, NY 11742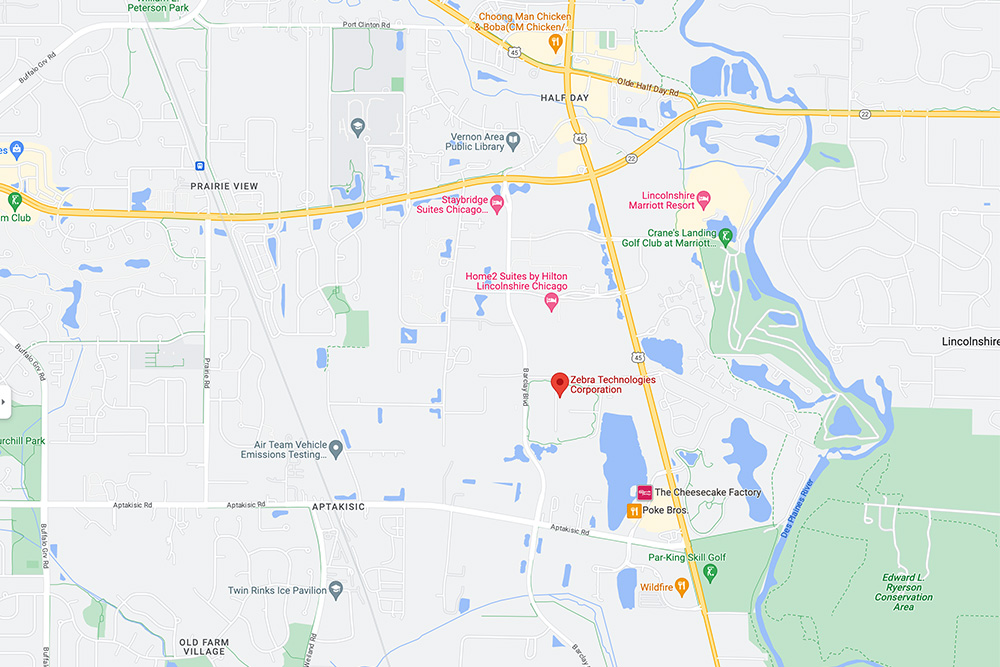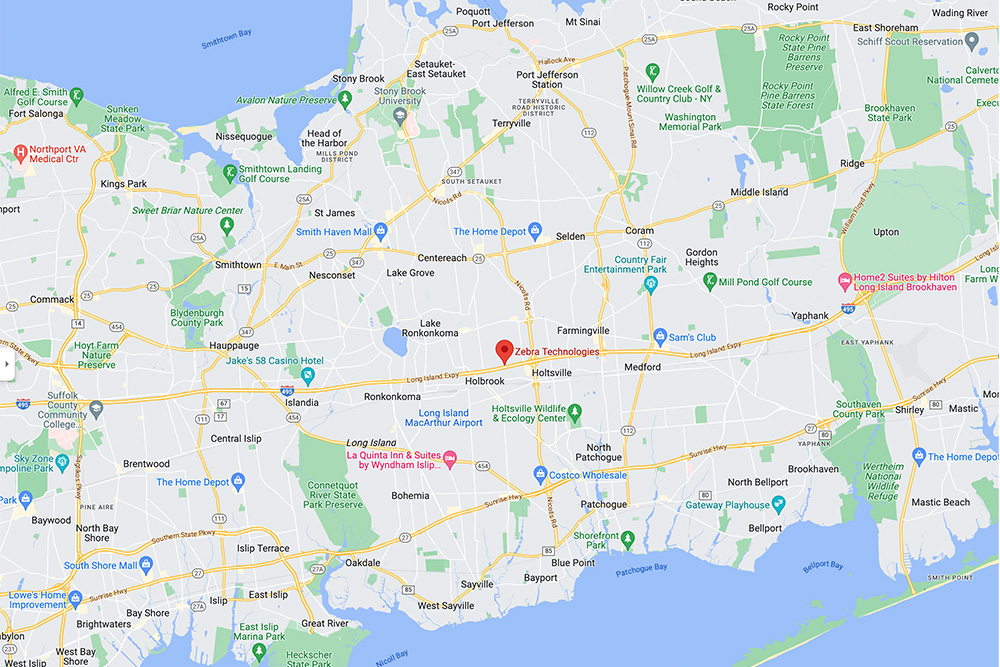 Directions from O'Hare International Airport
Get on I-190 E — 2 min (0.8 mi)
Take I-294 N to Deerfield Rd in West Deerfield. Take the Deerfield Rd exit from I-94 W — 14 min (14.7 mi)
Follow Deerfield Rd and US-45 N/N Milwaukee Ave to Overlook Point in Lincolnshire — 9 min (4.3 mi)
Arrive at Zebra Technologies
Directions from Long Island MacArthur Airport
Follow Arrival Ave and Johnson Ave to NY-454 E — 3 min (0.7 mi)
Follow NY-454 E and Nicolls Rd to Expy Dr N in Holtsville
Take the exit toward I-495 W/New York from Nicolls Rd — 10 min (6.8 mi)
Continue on Expy Dr N to your destination — 2 min (1.0 mi)
Arrive at Zebra Technologies