Quality-Tested Thermal Ribbons Give You Consistent, Premium Performance
Inferior thermal ribbons can lead to failed label performance, damaged printheads, lost productivity and ultimately reduced profits. Avoid it. With Zebra, you're guaranteed premium print quality and performance consistency every time. How? Our supplies R&D team performs stringent quality tests to ensure our ribbons consistently deliver the best print quality and durability. What's your result? Prolonged printhead life, decreased total cost of ownership and exceptional scanning performance.
Rigorously Tested to Perform
We take quality seriously. Our supplies R&D team performs stringent print quality, durability and printhead life tests after printing on a wide range of material types, at various speeds within Zebra printers. So, you can rely on maximum printer up-time and scannable labels.
Find Your Match
Choose from wax, wax/resin and resin formulations to meet the durability demands of your application when ideally matched to our thermal transfer materials. They are available for all of Zebra's industrial and desktop printers. And, Zebra's wax/resin and resin ribbons are UL certified.
Zero Substitutions
At Zebra, we never substitute ribbons. So, you know you'll receive the same formulation every time you order. This means consistent and reliable print quality and durability, eliminating potential interruptions to your operations.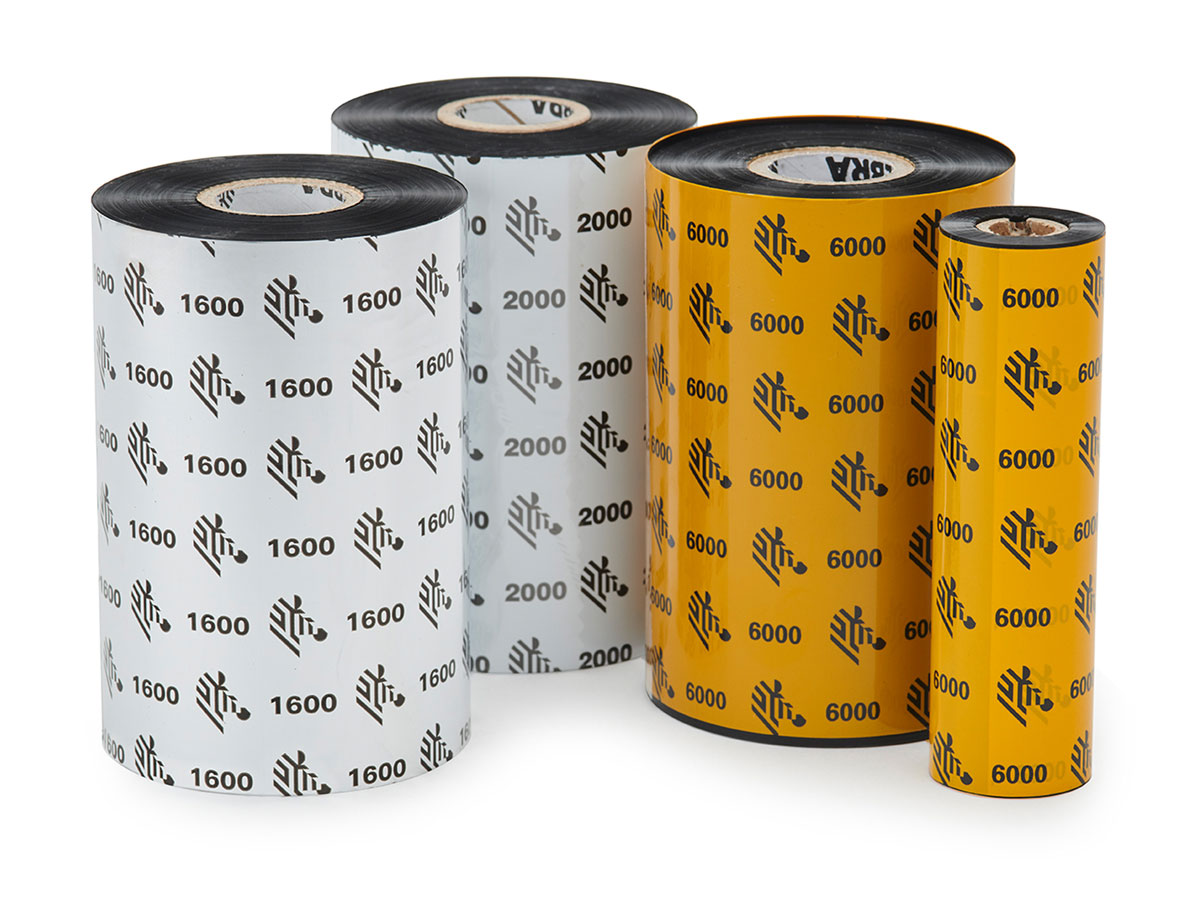 Wax Ribbons
Works Best for Most Applications
Ideal for Use:
With paper materials
Where fast print speeds are required (Up to 12 ips)
In environments with little to no exposure to chemicals and/or abrasion
Wax Ribbon Features
| Ribbon Formulation | Ribbon Availability by Printer Type | Key Features | UL Certified | Resources |
| --- | --- | --- | --- | --- |
| 1600 Economy | Industrial and Desktop | Provides good print performance at the best price. Works best for most general-purpose, short-term labeling applications. | NA | 1600 Economy Spec Sheet |
| 6000 Standard | Industrial and Desktop | Offers excellent print quality at high speeds and superior abrasion resistance when compared with conventional wax ribbons. | NA | 6000 Standard Spec Sheet |
| 2000 High-Performance | Industrial and Desktop | Produces high-quality rotated barcodes at high print speeds. | NA | 2000 High-Performance Spec Sheet |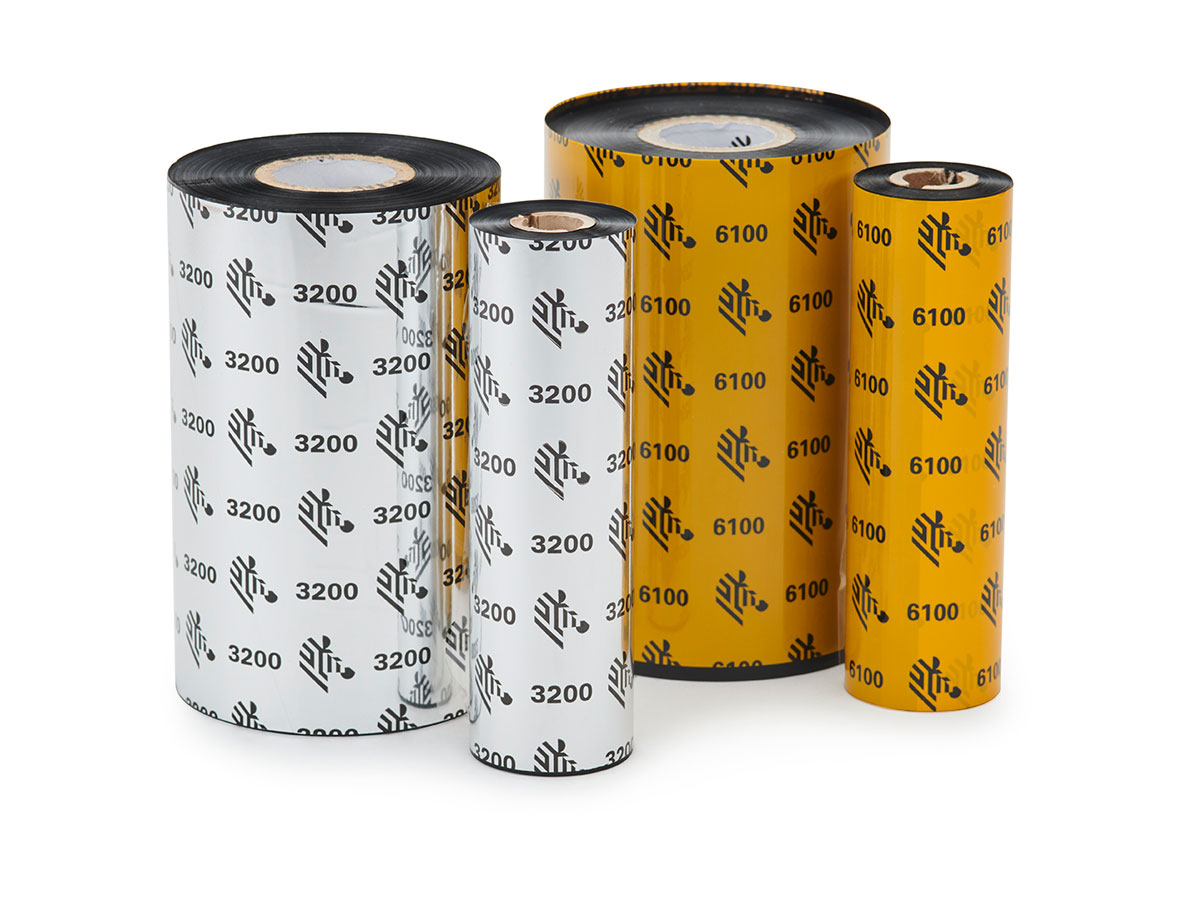 Wax/Resin Ribbons
Provides Good Abrasion and Chemical Resistance
Ideal for Use:
With top-coated paper and matte synthetic materials
In environments with moderate to harsh exposure to chemicals and/or abrasion
Wax/Resin Ribbon Features
| Ribbon Formulation | Ribbon Availability by Printer Type | Key Features | UL Certified | Resources |
| --- | --- | --- | --- | --- |
| 6100 Standard | Industrial and Desktop | A cost-effective ribbon that can be used on a wide range of materials, reducing the need to stock multiple ribbons. | Yes | 6100 Standard Spec Sheet |
| 3200 High-Performance | Industrial and Desktop | Offers very good resistance to scratches and smears, everyday chemicals and higher temperatures when compared with conventional wax/resin ribbons. | Yes | 3200 High-Performance Spec Sheet |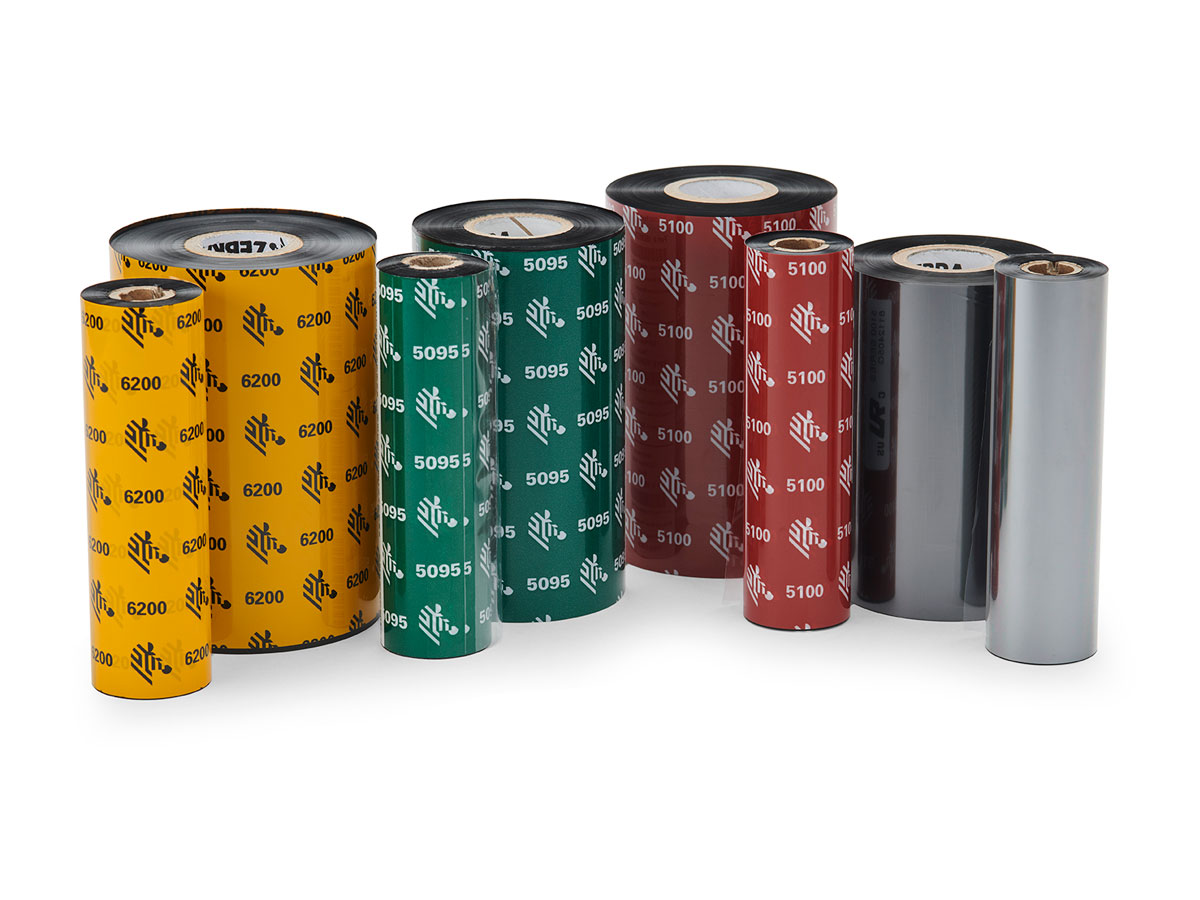 Resin Ribbons
Unmatched Print Quality and Durability
Ideal for Use:
With all synthetic materials and some topcoated labels and tags
In environments with harsh to extreme exposure to chemicals
When applications require strong resistance against ultra high temperatures and harsh outdoor environments
Resin Ribbon Features
| Ribbon Formulation | Ribbon Availability by Printer Type | Key Features | UL Certified | Resources |
| --- | --- | --- | --- | --- |
| 6200 Standard | Industrial and Desktop | Exhibits high print quality when printing dense barcodes and high-resolution graphics, while performing exceptionally well in environments prone to harsh chemicals and excess abrasion. | Yes | 6200 Standard Spec Sheet |
| 5095 High-Performance | Industrial and Desktop (includes cartridge) | Provides excellent chemical and temperature resistance, and features superb print quality, particularly when small fonts, graphics and rotated barcodes are desired. | Yes | 5095 High-Performance Spec Sheet |
| 5100 Premium | Industrial and Desktop | Offers excellent print quality and durability in ultra high temperatures and harsh outdoor environments. | Yes | 5100 Premium Spec Sheet |
| Image Lock | Industrial and Desktop (includes cartridge) | Formulated to provide superior image durability without the use of a laminate. Excellent for extreme environments. Compatible with Zebra's Z-Extreme 5000T and 8000T Image Lock materials. | Yes | Image Lock Spec Sheet |