Gain Visibility, Boost Productivity and Enable Automation in Automotive Manufacturing
Automotive manufacturers today face increasing demands. Challenges include rising consumer expectations and increasingly customized manufacturing. They need to modernize and adapt operations in an industry transitioning from the predictability of internal combustion engines to the variable and software-driven world of intelligent, next generation vehicles- including electric vehicles (EVs), hybrids and autonomous vehicles- all amidst a global labor shortage and the supply chain uncertainties. 
These new challenges require new solutions. They need real-time visibility over countless moving parts. They need carefully coordinated production lines. They need automation that lets them accomplish more with fewer workers. They need Zebra Technologies.
Optimize Supply Chain Operations
Zebra mobile computers, scanners, printers, supplies, RFID, Bluetooth®, locationing, machine vision and fixed scanner solutions can optimize automotive traceability across the supply chain—from materials to the plant floor to the vehicle driver. Leveraging Zebra MotionWorks Enterprise, automotive companies can translate a massive proliferation of near real-time data from multiple sources into actionable intelligence that fosters the agility to adjust to market conditions.
Meet Regulations More Efficiently
Government regulations vary from one region to the next, but in a global economy even regional regulations have worldwide implications. Automotive manufacturers must comply with continually evolving requirements everywhere their vehicles are driven. With our industry-leading location, data capture and machine vision technologies, Zebra can help validate that every relevant safety and quality regulation is met and all work is completed properly, on schedule and up to specifications.
Efficiently Manage Inventory and Operations
For more than 50 years, Zebra has been helping organizations manage inventory and operations efficiently and effectively, even as they scale up and diversify. Only Zebra has an expansive product portfolio that spans location technologies, data capture, fixed industrial scanning and machine vision, autonomous mobile robots (AMRs), workforce augmentation and optimization software—everything you need as an automotive manufacturer or supplier to see more, know more and do more, from the supply line to the assembly line and beyond.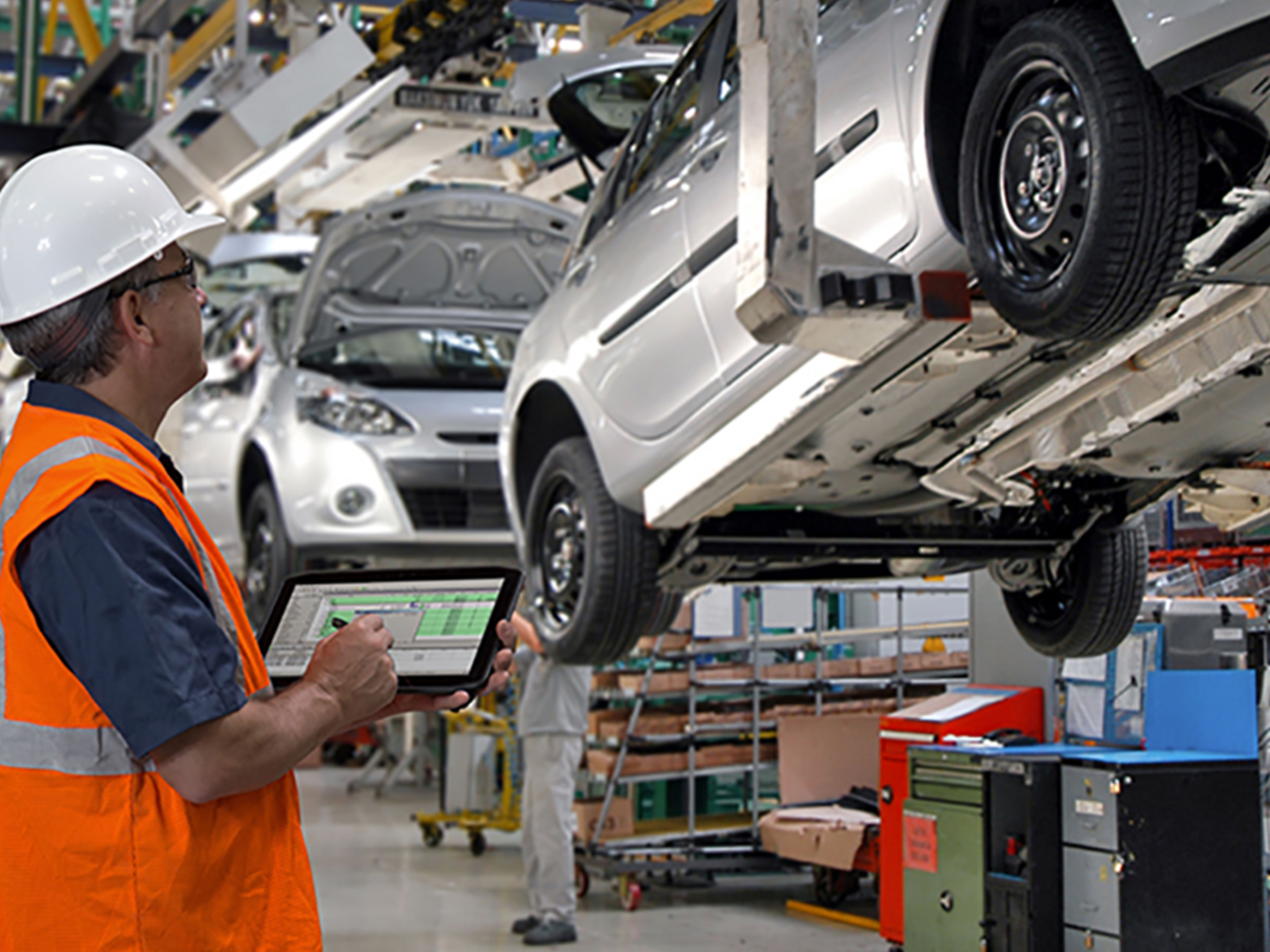 Vision Study
Digital Transformation in the Automotive Ecosystem
Technological innovation is advancing automotive industry transformation. Next-generation transportation mobility options are on the rise. The industry faces pressure to achieve new levels of customer service and efficiency. Learn how to out-innovate and gain a competitive edge.
Browse Automotive Manufacturing Solutions
Industrial Control Systems
Actively manage human-to-machine interfaces on the manufacturing line to ensure efficient operations. Enable effective communication between plant floor managers in the control room and workers across the expansive and noisy plant floor environment.
Line Side Replenishment
Automate the line side replenishment process to keep exactly the right amount of material on hand to prevent production line delays or shutdowns. Keep the production line running smoothly and reduce inventory costs by lowering overstocks.
Maintenance
Visibility into plant floor machinery enables the migration from reactive to proactive maintenance. Ensure a smooth production process without maintenance interruptions, machine delays or breakdowns.
Manufacturing News and Thought Leadership