Your Printer's Built-in Advantage
With Zebra Print DNA tools and applications, you will stay a step ahead utilizing remote management tools, heightened security and ongoing updates. Ensuring easy integration and interoperability, Print DNA enables your printers to work at optimized performance over their entire lifecycle, even as your business needs evolve.
Unburden Your IT
Simplify printer rollouts and ongoing management for your IT team. Seamlessly and securely connect printers into cloud-based apps. Remotely manage, secure and troubleshoot printers from anywhere, at any time. Automate printer updates to Wi-Fi certificates and encrypted connections. Add real-time metrics to provide data for future improvements.
Faster, Hassle-Free Integration
You want your printers to work so well that you hardly ever think about them. Zebra Print DNA delivers by making integration simple and downtime minimal. Effortlessly integrate printers into existing print systems and emulate legacy command languages for greater agility. Take advantage of advanced cross-platform development tools to create highly flexible apps.
Greater Security for Peace of Mind
Security risks are real, and attacks are increasing in frequency. Guard your printer endpoints and defend against cyberattacks with layers of protection. Zebra's Print DNA security tools can help uncover security vulnerabilities, configure printers to use secure connections, block unwanted access, and protect your data and infrastructure against security breaches.
Integrate
Secure
Deploy
Manage
Optimize
Managed Print Services
Be free from managing your thermal printer fleet and print supplies with Managed Print Services (MPS) and Zebra. Spot hidden expenses. Reduce CapEx costs. Automate supplies replenishment. Minimize IT workload. It's easy with Zebra thermal printers and our exclusive Print DNA software toolset. Unlike others, Zebra printers have the unparalleled intelligence and security needed to remotely manage, monitor, push updates and secure from anywhere – all while ensuring peak performance and visibility.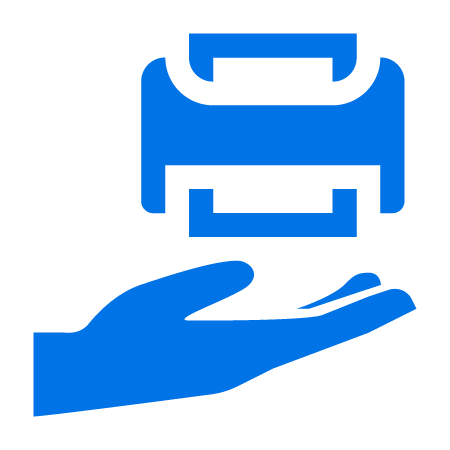 Make the Right MPS Move with Zebra Printers
Printers should make your job easier, not create obstacles. Remove the hassle with Zebra printers, print supplies and MPS. By outsourcing with MPS, every printer and your supplies are managed in one streamlined fashion to relieve your headaches and alleviate costs. Zebra printers include it all – unparalleled intelligence, security and durability.
How Intelligent Print DNA Software Enables MPS
Implement MPS with confidence with Zebra thermal printers, featuring our exclusive Print DNA software. This intelligent toolset makes our printers easy for your MPS provider to integrate, monitor, manage and secure. Driving performance today and tomorrow, our printers advance with technology to give you an innovative edge.
Drive MPS Success with Data and Expert Partners
Leverage Zebra's powerful ISV and expert partner community to drive smarter decision making in your MPS program. With Zebra's intelligent printers, your MPS provider has the data-driven intelligence to know what supplies you need, plan service, security and software updates. Zebra empowers partners to deliver better service, and smarter MPS solutions.
A New Way To Manage Your Thermal Printers
Want to take the burden of configuring, securing, monitoring and managing your thermal printers off your IT or operations team? Need a better way to replenish supplies inventory? You can now enlist the help of a Managed Print Services provider thanks to Zebra and our Print DNA printers.